About us
Saskia Timmermans started in 2013 in Delft Mehron Europe (Holland) B.V. to make Mehron makeup available in the Netherlands and beyond. Mehron Europe (Holland) B.V. has the exclusive distribution of Mehron for parts of Europe.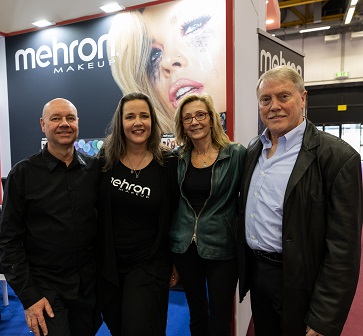 Marilyn and Marty Melik, owners of Mehron Inc, USA and Saskia Timmermans, owner of Mehron Europe (Holland) B.V., at the COSMOPROF show in Bologna, Italy, 2019
About Mehron Inc.
Mehron Melik founded Mehron Inc. in 1927 in a small New York City loft just off Broadway, in the heart of the theatre district. For years, Mehron catered to the makeup needs of performers in theatre, vaudeville, burlesque, opera, ballet, and silent films. His staff of as many as 10 "Mehron Ladies" would fan out each evening to different theatres and offer cosmetic products and application advice to the entertainers before their performances.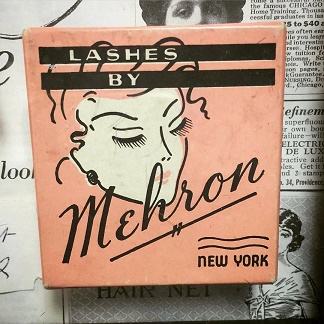 After World War II began, Mehron devoted his talents and expertise to helping severely disfigured soldiers learn how to use makeup products to camouflage their scars, wounds and burns. Mehron traveled from New England to Virginia for nearly 2 years visiting Veterans' hospitals. This selfless donation of his time and talent aided hundreds of returning servicemen in picking up the pieces of their lives after the war.
During the 1950's and 1960's, the entertainment business began to spread across the United States. In order to keep pace, the distribution of professional quality makeup products shifted to retail outlets. Hundreds of stores became Mehron dealers and the era of the "Mehron Ladies" was over.
In 1971, Mehron's son, Martin Melik, assumed control of the family business. He implemented new methods of promotion and distribution, expanded and improved the Mehron product line, and ushered in a new era of aggressive growth and customer service.
The 85th anniversary of the Mehron brand in 2013 is a celebration of the dedication it took to become the leader in the performance makeup industry. Today, many large productions including Blue Man Group, Cirque du Soleil, The Metropolitan Opera, Ringling Brothers and Barnum & Bailey Circus, and The American Ballet Theatre depend on Mehron products to look their best.
Anniversaries are only a milestones, not a destinations. We continue to thoughtfully build our product line to meet the demands of today's marketplace. We want to take this opportunity to thank each of our dealers for their loyalty and support of the Mehron brand and we look forward to many more years of mutual growth and success.